Pfaff: Next to Nature, Art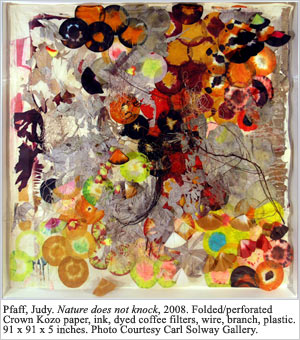 The exuberance of Judy Pfaff's constructed paper at Solway gallery fed into the show's opening with the kick of champagne. "Drop-dead gorgeous " I wrote in my notebook, in less than art-crit fashion. Later, back to look again before reviewing, the intimacy of seeing the work as the only person in the gallery made for a different experience. Gorgeous, yes, but not just a pretty face.
Half the works on view are what Pfaff calls prints, produced in series of twenty to fifty, although the layerings and hand work involved must make each print subtly individual. Eight other constructions are decidedly one-of-a-kind, related to one another but insistently unique.
Pfaff doesn't recognize flat. Even in the prints there are folds and curling bits that produce shadow and alter the overall appearance, depending on angle of light. The prints are hung in the gallery's central corridor, a fine progression to the largest of the lot (38.5 x 86.5 inches), Year of the Dog # 10, on the far wall. The other two large prints (36 x 84 inches), Year of the Dog #5 and #3, like #10, are woodblocks touched up digitally and with hand painting. Labor intensive in the extreme. The remaining prints, all untitled, are each 10.5 x 14.5 inches, etchings with digital enhancements, collage, and now and again hand-punched holes. What does all this tinkering add up to? Works that can be looked at a long time, rife with discoveries.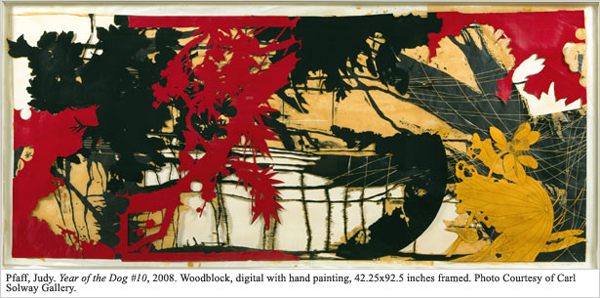 The natural world is Pfaff's enduring subject, and if she makes of it an unnatural world it's only that we might see it better. In Solway's North Gallery eight one-of-a-kind works are set in deep frames under glass, almost as though they need to be confined to keep from bursting out and propagating themselves. In Living with Shade artificial lilies stand on their own cups against a background of layered and cut paper and the occasional fishing float.
"How strange that nature does not knock, and yet does not intrude," wrote Emily Dickinson, and Pfaff picks up "nature does not knock" for the title of the largest piece on view, in which coffee filters are dyed to become poppies and other unlikely materials also evoke the out-of-doors in a dazzling tour-de-force. Dickinson is called up again, in the title I Dwell in Possibility, a work that incorporates newsprint, aluminum foil, leaves, and shellac, among other things, to stunning effect.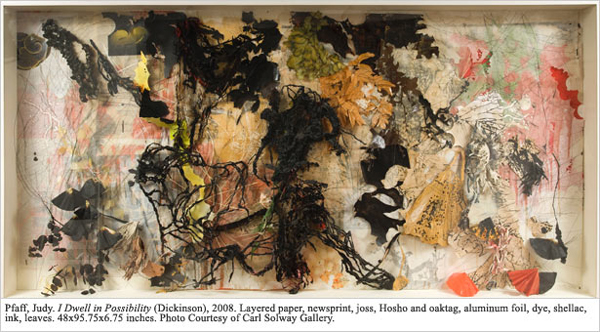 What I saw, on second view, was the dark thread that runs through all these works. Literally dark: the color black is recurrent, although it is almost absent in actual nature. Pfaff is no sun dial, recording only the sunny hours. The tenuousness of any status quo, the fact of death as necessary counterpart to life, the heedless push of life force are all here too.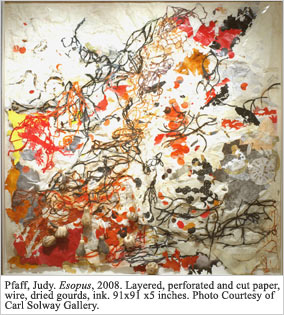 Traditional categories are seldom applicable to Pfaff's work. To see where she's coming from, go to the contemporary gallery on the third floor of the Cincinnati Art Museum where Pfaff's 3/4 Time (1990) is on view. It hangs on the wall, jutting out at least a couple of feet, an airy confabulation cheerfully expanding painting into sculpture.
Pfaff is well known for her installations, works that fully occupy a space. These recent works in effect distill those large pieces into more manageable confines. Interestingly, she is not an artist who shrugs off titles as irrelevant. "Untitled" for her may just mean she's not thought it up yet. Two works have been named since Solway printed out the exhibition list. A piece that my notes say looks as though a wind is coming through is now called Dust to Dust and another is titled Esopus, after a stream in the mid-Hudson valley where Pfaff lives much of the year. Before knowing the title I had noted this piece as the "happiest" of the works on view, and with the title can only feel I got it right. I know that stream. There's a point where rafts are anchored in the waterway and sand makes a beach on the bank. I've spent more than one idyllic afternoon swimming there, and I bet Judy Pfaff has too.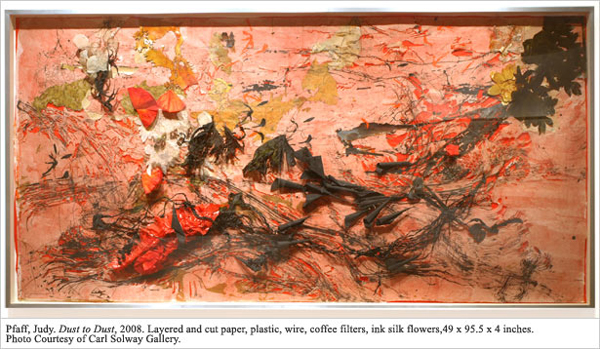 The exhibition is made up almost wholly of works from 2008. In the North Gallery perhaps the most fearsome work on view, tall and slim as a witch (93 x 49.5 inches), conjuring scary things in black and red and orange, is from 2006. It's particularly interesting as a point of departure for the 2008 works and is countered by the single piece from 2009, also untitled. This work looks different from everything else. It almost presses against the glass with its accumulation of slender green leaves with white spines, Oriental paper that's been printed, torn, and partially burnt, winged maple seeds caught in wire, and a honeycomb-like brown paper element. The introduction of green is new, the space is fuller than before, printed material (albeit in Chinese) is also new. What's next? We'll have to wait to see. Meanwhile, 'Judy Pfaff: Constructed Paper' is on view at Carl Solway Gallery, 424 Findlay Street, through August 15.